Eyes Wide Open
In a time where we are teaching the world to respect, learn and appreciate all the uniqueness of each person, why not start with the children. They begin their lives accepting anyone who befriends them. Look at any kind of play time. Kids will talk to others if they have a fun toy, neat outfit or partaking in a game they may enjoy. At some point, they learn we are different and their mindset may change if outside forces sway them. As an educator, I plan on doing my part to continue their acceptance and friendship to all who offer it. This can be uneasy terrain. Opinions can come across as facts and persuade a teacher to not go near that terrain. Thankfully I have found colleagues who support and encourage my thinking. We are achieving this through two projects, which can be implemented in any school.
A few years ago, Rebecca Gratz and I where heading to FETC , Future of Educational Technology Conference, in Orlando, Florida. While spending a little bit of time at Magic Kindgom we rode It's a Small World. Think for a moment about the ride. Where does it take you? What do you see, hear and feel? Mr. Disney wanted to create a global journey for his visitors. As we admired the atmosphere we asked 'How did he travel around the world? If we were to look at a map, what would his journey look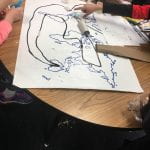 like?' This question ballooned into an amazing project. We brought this back to our class that contained 12 different native languages. Showing the students videos of the ride, you can find many on youtube, they needed to look at the characteristics of each part of the ride and discuss where in the world it is. This opened the door for classmates to discuss their culture, dress, language, food and music. A safe space of speaking of who they are as well as questioning from their peers was opened up. What started as a question turned into a cultural project where students used all of the Cs. The final project contained Ozobots traveling through a map of the world, powering the large clock using Hummingbird Kits and a student-led, county-wide student makerspace showcase.
Let's move from languages to representation. As you look around your class, are all of your students represented in your studies and readings? For the past two years I've been honored to be part of a wonderful Black History Month learning experience. Each week is assigned a theme (STEM, Arts, change makers and peer change makers) where a team of educators have developed a slide show for each topic. The weekly slide show contains an individual who has impacted that week's topic. Teachers are given images, books and links to videos of their their accomplishments.
We wanted to include more than the regular education classes. To add to the experience, our music teacher paired musicians with the focus of each week. These songs were added to our daily news show and then studied in class. A select group of students added a special segment where they shared a few facts about the Person of the Day. Finally, the icing on the cake comes when we have a guest speaker each Friday capping off the week.
After more than 2 decades in the field of learning, it still amazes me how an idea, paired with passionate and caring educators can lead to a place where student empowerment takes it to the next level. The students involved in these projects are learning the content, but more importantly the focus is on respect, camaraderie, and open hearts to embrace their world around them.