Lead the Way
"They were leaders but didn't know it until they had the chance to lead." (2016. Hacking Leadership. Joe Sanfelippo and Tony Sinanis)
Each morning my day starts with a small group of 5th Graders on our BTES News Show. Their job is to update the script, check all batteries and cords, fill out the job board, rehearse lines and record the school's news. The news will be comprised of weather, a daily highlight, and possibly a themed focus. If you were to walk in my room while this going on, it will look a bit out of sorts and sound LOUD, productively loud. All students will know their role for the day. Most importantly, the student manning the computer with the recor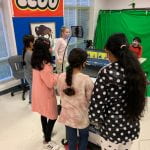 ding program is the one in charge. Because the job board is erased each day, jobs change daily. Again, when an outsider walks in it looks like…mass chaos. Yet, the team members know exactly what their job is and how to get it done.
The best part of this process is watching students emerge as leaders. Some come to me ready to take control of all of it while others appear as shy individuals who need to observe before they jump in. No matter how they arrive, they are in a situation where they can lead. As the mornings continue on, they find their niche and excel. Those unexpected moments of success and leadership make this program so successful.
Let's shift the leader thinking from students to teachers. There are opportunities for leaders but some may appear to be the same folks selected for those positions. As a coach, I love to observe from a distance and locate the quieter leaders. They are experts in their field, often share ideas in small groups and the outcome of their lessons is mind-blowing. How do you pull these leaders out of their shells?
Build a relationship with them and name their strengths.
Locate ways in your community their talents can be showcased. Is there an event coming up they can be part of?
Knowing their talents, pick one and ask them to lead a small training during a grade level meeting. Starting off small will give them the confidence for larger groups.
Design a project together. Co-teach the lesson but, as the coach, slowly back away and become their support.
Reflect and celebrate. Point out how they acted as leaders and share that knowledge with the team and administration.
Each day we are given a chance to support students of all ages in our building. When we stop and show them what they can accomplish the sky is the limit.